Local bands that are friends of mine:
My guitar teacher and good friend of mine: Stuart Kinzel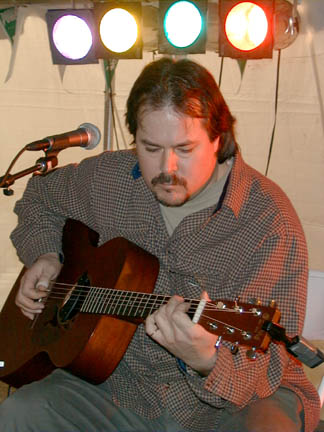 His style is very much like Mark Knopfler's. He does finger style blues, hillbilly blues, rockabilly, and a few rock tunes.
He's known here in the Portland area for the "Best Blues Act for 2001" with his band "Kinzel and Hyde"
There new album "Okalahoma Credit Card" was just released on Slip Side Records. To learn more about Kinzel and Hyde click here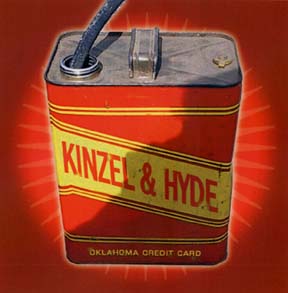 Here are some sound files from their brand-new CD "Oklahoma Credit Card" This CD features 7 all new and original songs with guest vocalists including the fantastic Lily Wilde! Click on her name to go directly to Lily's swangin' website! The CD also features 6 traditional numbers that have been adapted to our four-piece. In Portland, you can purchase the CD at For What It's Worth on Woodstock, SE. CDbaby.com has our CD's, too. (You can also purchase one from me, Shaun Toman)

*The Muddy tribute "Meet in The Bottom" is one that The Notting Hillbillies play!!

---
Jon Koonce and the Honky Tonk Trio
"In the 80ís, he was leader of the legendary Portland rock band, Johnny and the Distractions.
Now 20 years later, Jon Koonce is still Portlandís best ticket to a rocking good time"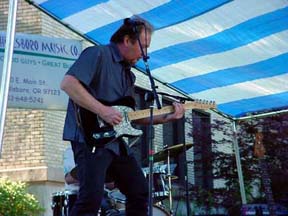 Here's Jon playing a gig at the Hillsboro Tuesday Market on July 21, 2002 (Photo by Shaun Toman)
His new album "Mysterious Ways" was just released earlier this year. You can check it out on CDNOW.COM
He also has a solo album titled "Train Fare Home" that you should check out!!
---
The Feppo Bros.
Feppo music is an eclectic blend of rock, blues and folk music that consistently presses musical boundaries.
With decades of experience, The Feppo Bros. provide critically acclaimed, quality entertainment. A truly "American" art form.
There latest album is titled "Stronger For It" below is the track-listing and a few samples:
Eagles & Ducks (Adams/Feldmann) 4:50
Wasted Night (Feldmann) 5:40
Little Faith (Adams/Feldmann) 5:46
Stupid Mistake (Adams/Feldmann) 5:02
Long Black Veil (Dill/Wilken) 4:45
Keepin' it to Yo' Self (Scandlyn) 4:32
Place to Run (Adams/Feldmann) 6:50
Last Call (Feldmann/Stephens) 4:39
Anticipation Fever (Adams/Feldmann) 4:11
That's Alright Mama (A. Cruddup) 4:41
Their album is availble from Amazon.com here.
Or you can order it from their website right here!
The Feppo Bros. Offical site http://www.feppos.com
---